Prof. LEUNG, Mee Lee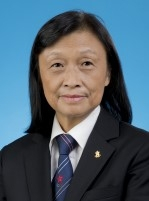 Doctor of Education, University of Leicester Leicester, U.K.
Master of Education, Oregon State University Corvallis, Oregon, U.S.A.
Bachelor of Science, University of Oregon Eugene, Oregon, U.S.A.
Olympic Education
Gender Studies
Female Athlete
Professor Leung is the Adjunct Professor of the Department of Sport and Physical Education and a part-time lecturer in the Sports and Leisure Management Program and the Master of Public Administration Program in the Hong Kong Baptist University.
Professor LEUNG is the Hon. Deputy Secretary General of the Sports Federation and Olympic Committee of Hong Kong, China, Director of the Management Company of Olympic House Limited and also the Advisor to the University Sports Federation of Hong Kong, China.
She is now a Member of the Major Sports Events Committee, and has served as a Member of the Elite Sports Committee from 2014-2016. Member of the Community Sports Committee under the Sports Commission of the HKSAR Government (2004-2014) as well as a Member of the Advisory Committee of Quality Migrants and Professionals for the HKSAR Government (2008-2014).
Event management
Facility management
Human resource management
Olympic Education
Medal of Honor in 2017
Chief Executive Commendation for Community Service in 2007
HAB Commendation for Community Service in 2006
Refereed Journals:
Du, M., Leung, M.L. (2011) Managerial stress and job satisfaction of sports and recreation industry in Hong Kong. Journal of Sports Administration and Supervision. Vol.4. 65-102.

Refereed Conference Proceedings:
Du, M., Leung, M.L., & Fu, F.H. (2010) The effects of Leisure time activity and coping on the stress strain relationship: a study with sport and recreation managers in Hong Kong. Proceedings of the III International Conference of Physical Education and Sports Science organized by physical Education and Sports Science Academic Group in Nanyang Technological University in Singapore.
Fung, V., & Leung, M.L. (2010) Development of junior elite athletes from the National Olympic Committee's perspective. Proceedings of the International Scientific Symposium organized by the Hong Kong Sports Institute.
Member, Major Sports Events Committee of the SAR Government
Hon. Deputy Secretary General, Sports Federation of Olympic Committee of Hong Kong, China
Director, Management Company of Olympic House
Member, Personnel Committee, SF & OC of HK, China
Member, Women & Sport Commission , SF & OC of HK, China
Member, Investment Committee, SF & OC of HK, China
Convenor, Editorial Board of SF & OC Newsletter
Member, Constitution Revision Sub-Committee, SF & OC of HK
Advisor, University Sports Federation of Hong Kong, China
Member, University Games Committee, University Sports Federation of Hong Kong, China
Advisor, Asian Academy for Sports Fitness and Professionals