Prof. FU, Hoo Kin, Frank, MH, JP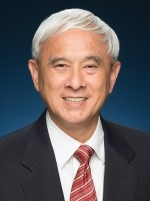 PositionEmeritus Professor & Honorary Consultant, Dr. Stephen Hui Research Centre for Physical Recreation and Wellness
OfficeDavid C. Lam Bldg, HKBU
Telephone No.3411 7002 (office)
Fax No.3411 5756 (office)
E-mail Addressfrankfu@associate.hkbu.edu.hk
D. P. E., Springfield College, U.S.A.
M.Sc., Springfield College, U.S.A.
B.A., Dartmouth College, U.S.A.
Exercise Physiology and Fitness
Medal of Honour, SAR Government of Hong Kong
Justice of Peace, SAR Government of Hong Kong
Refereed Journal:
Pan, D., Fu, F., Pan, A. "Integrate Congruity Paradigm into Sport Consumer Inquiry: Evaluation of Minic Band of Sport Product". Hong Kong Recreation Review 2015 Vol 27:12-18.
Fu, F., Kong, Z.W., Zhang, Y. P. & Zang Y. P. "A Comparison of Lifestyle Management Practices of Residents of Three Chinese Cities: Hong Kong, Macau and Weihai (Shandong)". International Journal of Sports Science 2013 Vol 3(4):115-126.
Fu, F., Nan., A. & Li, S.C. "Lifestyle Management Practice of 40-59 years Cohort in Hong Kong". Advances in Physical Education 2013 Vol. 3(2):53-61
Fu, F., Guo, L.X., & Zang Y. P. "Camping and Quality of Life". Open Journal of Preventive Medicine 2013 Vol. 3(3):263-274
Fu, F., Guo, L.X. & Zang, Y. P. "An Overview of Health Fitness Studies of Hong Kong Residents from 2005-2011". Journal of Exercise Science & Fitness 2012 Vol. 10(2):45-63.
Liu, Y.L., Paul, S. & Fu, F. "Accomplishments and Compromises in Prediction Research for World Records and Best Performances in Track and Field and Swimming". Measurement in Physical Education and Exercise Science 2012 Vol. 16(3):167-182.
Fu, F. and Guo, L.X. "Effects of Year-round Swim Training on Selected Cardiorespiratory Functions of Hong Kong Junior Secondary School Students". Journal of Youth Studies 2012 Vol. 15(2):178-188.
Nie, J., Tong, T.K., George, K., Fu, F.H., Lin, H., Shi, Q. "Resting and post-exercise serum biomarkers of cardiac and skeletal muscle damage in adolescent runners". Scandinavian Journal of Medicine & Science in Sports 2011 Vol. 21(5): 625-9.


Books:
Fu, F & Levy, J (editors). "Active Aging and Quality of Life". 2015. Sagamore Publishing, LLC. U.S.A. 109 pages.
傅浩堅,楊錫讓(主編)"社會體育指導", 高等教育出版社,2012年,392頁。
Fu, F., Nan, A. & Li, S. "Lifestyle Management Practices of Hong Kong People". Dr. Stephen Hui Research Centre, HKBU. 2011. (64 pages).
Fu, F. "Sport for All and Health" .2nd edition, HKBU. 2011, 241 pages.
傅浩堅,"運動與健身增訂版",商務印書館,2011年,232頁。
"The study on sports for people with disabilities in Hong Kong", 2015
Grant Support: Home Affairs Bureau, HK$1.39M
"The Effects of a 10-week Intervention Program on the Lifestyle Management Practices of 25-39 Year Old Office and Manual Workers in Hong Kong", 2012-2013
Grant Support: Faculty Research Grant, HKBU, HK$99,740
"Notational Analysis of Taekwondo Top-rankers in Asian Game 2010", 2010-2011
Grant Support: Faculty Research Grant, HKBU, HK$48,178
"The Effects of Two Sports Training Programmes on Selected Physiological Parameters and Body Fat", 2010-2011
Grant Support: Faculty Research Grant, HKBU, HK$59,600
"The Effects of 8-week of Indoor and Outdoor School Based Recreational Swimming Programmes on Selected Cardio-respiratory Functions of Secondary School Students", 2010-2011
Grant Support: Faculty Research Grant, HKBU, HK$99,850
"Development of a comprehensive and effective fitness program for adults with intellectual disabilities", 2010-2012
Grant Support: Health Care Promotion Fund, HK$170,840
International Fellow of the National Academy of Kinesiology, USA
Fellow of the Research Consortium of SHAPE, USA
Fellow of the Hong Kong Recreation Management Association, HKSAR
Fellow of the Hong Kong Association of Sports Medicine and Sports Science, HKSAR
Supervisor, Jockey Club Ti-I College (Since 1993)
Supervisor, Hong Kong Baptist University Affiliated School Wong Kam Fai Secondary and Primary School (Since 2006)
Chairman, Anti-Doping Committee, Sports Federation & Olympic Committee of Hong Kong, China (SF & OC) (2008-2016)
Member, Mega Events Fund Committee, SAR Government of Hong Kong (2009-2016)
Member, Sports Commission, SAR Government of Hong Kong (2009-2016)
Chairman, Hong Kong Olympic Academy, Sports Federation & Olympic Committee of Hong Kong, China (SF & OC) (2015-2016)